When using US standard power cords in outdoor or wet environments, there are several important considerations to ensure safety and proper operation:
1.Weatherproofing and Waterproofing:
Choose power cords labeled as "outdoor," "weatherproof," or "waterproof." These cords have insulation and materials designed to resist moisture penetration.
Look for cords with rubber or vinyl jackets that provide protection against water and UV exposure.
2.Cord Protection:
Utilize cord covers or protectors, especially when cords cross walkways or areas with foot traffic. These covers shield the cords from physical damage and help prevent tripping hazards.
Cord covers also provide an added layer of protection against moisture infiltration.
3.Elevation and Positioning:
Elevate cords off the ground using hooks, clips, or other secure methods. This prevents water from pooling around connections, reducing the risk of water entering plugs or outlets.
Angle cords or lay them in a way that minimizes the potential for water to flow along the cord's length.
4.Secure Connections:
Ensure power cord connections are properly inserted and tightened. Loose connections are more susceptible to moisture infiltration and can lead to electrical hazards.
Consider using waterproof tape or cable ties to secure connections and provide additional protection.
5.Outlet Covers:
Install outdoor-rated outlet boxes with weatherproof covers. These covers should be closed when not in use to prevent rain and moisture from entering the outlet.
6.Avoid Overloading:
Check the power rating of the power cord and the devices connected to it. Avoid exceeding the cord's maximum load capacity to prevent overheating and potential fire hazards.
7.Regular Inspection:
Routinely inspect power cords, plugs, and outlets for signs of wear, damage, or exposure to moisture.
Look for cracked or frayed insulation, corroded plugs, or signs of water ingress. Replace any compromised components immediately.
8.Temporary Use:
When using power cords temporarily outdoors, unplug them when not in use. Prolonged exposure to the elements can deteriorate cord insulation and components.
10.Proper Storage:
Store power cords indoors in a dry location when not in use. This prevents them from getting wet and maintains their integrity.
11.Outdoor-Rated Equipment:
Choose electrical equipment, appliances, and tools specifically designed for outdoor use. These items are built to withstand exposure to moisture and other outdoor conditions.
12.Professional Installation:
For permanent outdoor setups, such as landscape lighting or outdoor kitchens, consult a licensed electrician to ensure proper wiring, grounding, and compliance with local electrical codes.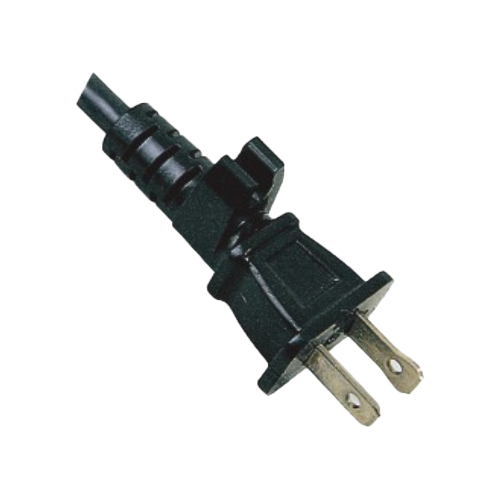 The two-core US standard plug power cord is a type of electrical cable designed for connecting devices and appliances to power sources in the United States. Unlike three-core cords that have an additional ground wire, two-core power cords consist of two conductive wires enclosed in an insulating jacket. These cords are commonly used for devices that don't require grounding, such as certain small appliances, electronics, and devices with double-insulated designs.