IEC standard power cords address issues related to electromagnetic interference (EMI) through various design and construction features. Here's how they help mitigate EMI problems:
1.Shielding: IEC standard power cords incorporate electromagnetic shielding, typically in the form of a conductive foil or braided wire, surrounding the internal conductors. This shielding acts as a barrier, attenuating both incoming and outgoing electromagnetic interference. By effectively containing electromagnetic fields, the shielding prevents interference from disrupting the operation of connected electronic devices.
2.Twisted Pair Configuration: The twisted pair configuration used in IEC standard power cords involves twisting two conductors together. This design significantly reduces electromagnetic interference because any induced current in one wire creates a magnetic field that affects the other wire in the pair, canceling out the interference. This cancellation effect helps maintain signal integrity and reduces the risk of EMI-related issues.
3.Ferrite Beads: Ferrite beads, or ferrite chokes, are cylindrical components made of ferrite material. When placed around the power cord, these beads suppress high-frequency electromagnetic interference by absorbing the interference and converting it into negligible heat. By acting as a passive filter, ferrite beads mitigate EMI problems without significantly affecting the power flow, ensuring a stable power supply to connected devices.
4.Compliance Testing: IEC standard power cords undergo comprehensive compliance testing procedures to verify their electromagnetic compatibility. These tests assess the cords' emission levels and susceptibility to interference. Compliance with specific EMI limits defined in the standard ensures that the power cords do not emit excessive electromagnetic radiation, meeting regulatory requirements and minimizing the risk of interfering with nearby electronic equipment.
5.Proper Grounding: Ensuring proper grounding of power cords is paramount in mitigating electromagnetic interference. Grounding provides a safe path for unwanted electrical currents, including electromagnetic noise, to dissipate into the ground. IEC standard power cords are designed with grounding mechanisms that adhere to the standard's guidelines, ensuring a reliable pathway for grounding and minimizing the potential for EMI-related disruptions.
6.Compliance with Regulations: IEC standard power cords are engineered to comply with regional and international regulations governing electromagnetic interference. Adherence to these regulations is essential to guarantee that the power cords meet the specified emission limits and do not interfere with the operation of other electronic devices. Compliance with these standards ensures seamless interoperability in diverse global markets.
7.Quality Materials: IEC standard power cords are manufactured using high-quality materials for both conductors and insulation. High-conductivity copper conductors with appropriate thickness minimize signal loss and enhance the overall efficiency of power transmission. Insulation materials with low dielectric constant are chosen to reduce the propagation of electromagnetic waves, maintaining signal integrity and minimizing the risk of EMI problems.
By meticulously integrating these design elements and manufacturing practices, IEC standard power cords are engineered to effectively minimize electromagnetic interference, guaranteeing the reliable and interference-free operation of electronic devices across various applications and industries.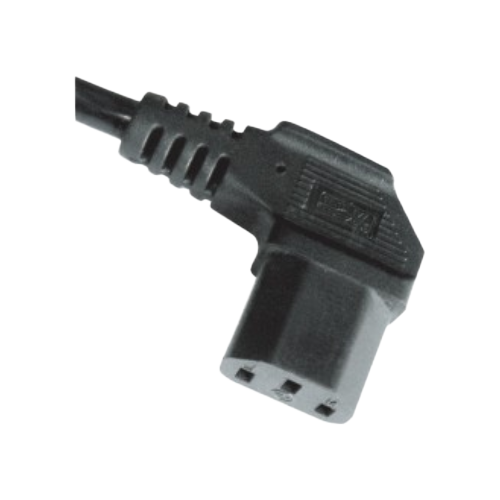 The IEC standard power cord consists of a cable with a male plug at one end and a female socket at the other end. The male plug is designed to fit into the female socket of the device being powered, while the female socket is connected to the electrical outlet.
The IEC standard power cord includes various safety features, such as ground wire for earthing or grounding, insulation to protect against electric shock, and locking mechanisms to ensure a secure connection. These safety features help to prevent electrical hazards and ensure the safe operation of electrical devices.