The design of a UK power cord can significantly impact its flexibility and durability. Here's how:
1.Cord Material: The choice of materials for a UK power cord significantly impacts its flexibility and durability. High-quality materials such as PVC (Polyvinyl Chloride) or rubber are preferred due to their excellent wear resistance and temperature stability. These materials enhance flexibility by allowing the cord to bend and coil without cracking or deteriorating over time. Their durability ensures that the cord can withstand various environmental conditions and repeated use without degradation.
2.Cord Gauge: The gauge, or thickness, of the internal wires within the cord is a critical design consideration. Thicker wires provide increased durability by offering greater resistance to wear and tear. However, thicker wires may reduce flexibility, so manufacturers must carefully select the appropriate wire gauge to balance both factors. This decision is often based on the intended application and load requirements of the cord.
3.Stranding: Stranding refers to the arrangement of multiple smaller wires within the conductor. Finely stranded conductors, composed of numerous smaller strands, enhance flexibility. The fine stranding allows the cord to bend and twist easily without compromising its structural integrity. This design not only contributes to flexibility but also distributes bending stresses evenly across the conductors, preventing damage.
4.Jacket Design: The design of the cord's outer jacket or insulation material is critical for flexibility and durability. Special jacket designs, such as spiral or coiled cords, offer enhanced flexibility by allowing the cord to extend and retract without tangling or kinking. Reinforced or braided jackets add strength and durability to the cord, especially in applications where the cord may be subjected to mechanical stress or impact.
5.Bend Radius: The design of the cord should consider the minimum bend radius, which is the smallest radius at which the cord can be safely bent without causing damage to the internal conductors or insulation. A properly designed cord will specify an appropriate bend radius to ensure both flexibility and durability. Excessive bending beyond this radius can lead to conductor breakage or insulation damage.
6.Connectors: The connectors at both ends of the cord are critical to its overall durability. Molded connectors are preferred for their robust construction and resistance to strain. High-quality connectors with proper strain relief features near the cable entry points prevent the cord from experiencing undue stress during use, reducing the risk of connector or cable failure.
7.Abrasion Resistance: If the cord is expected to encounter rough or abrasive surfaces during its use, the design should incorporate features to enhance abrasion resistance. This may include additional protective layers or materials at vulnerable areas, such as near connectors or along the cord's length. These measures protect against wear and tear, extending the cord's lifespan.
8.Testing and Quality Control: A rigorous manufacturing process should include comprehensive testing procedures to ensure that the cord meets specified flexibility and durability standards. Testing may involve flexing and bending cycles, environmental exposure tests, and assessments of insulation and conductor integrity. Quality control measures help identify and address any manufacturing defects that could impact the cord's performance and longevity.
9.Intended Use: The cord's design must align with its intended use. For example, a power cord used in a stationary appliance may have different flexibility and durability requirements compared to a cord used in a portable device subject to frequent flexing and movement. Tailoring the design to the specific application ensures optimal performance and longevity.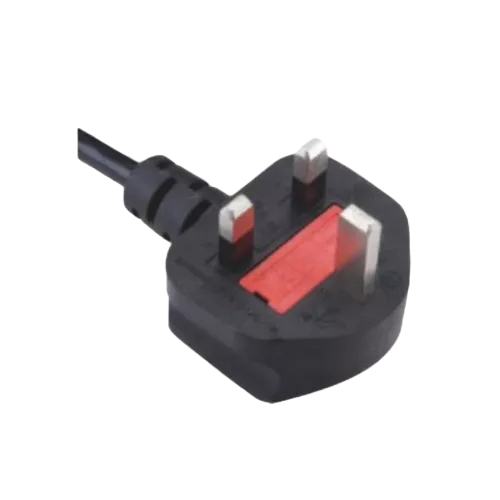 International standard model name: UK
Rated value: 3/5/10/13A 250V