The European Standard Power Cord connector, commonly known as the Europlug, is typically configured as follows:
1.Plug Type and Grounding: The Europlug is characterized by a compact and minimalist design, featuring two rounded pins. Notably, it lacks a third grounding pin or prong, which distinguishes it from some other European plug types. This absence of a grounding pin is suitable for double-insulated appliances and certain low-power devices.
2.Pin Diameter: The pins on a Europlug have a standardized diameter of 4.0 mm (0.157 inches). This consistent sizing ensures compatibility between the plug and the corresponding outlet.
3.Pin Spacing: The distance between the centers of the two pins on a Europlug is 19.05 mm (0.75 inches). This precise spacing is designed to fit the standardized sockets found throughout most European countries, promoting universality and ease of use.
4.Polarity: Europlugs are non-polarized connectors, which means that both pins are identical in size and shape. This design allows the plug to be inserted into the outlet in either orientation, simplifying the connection process for users.
5.Voltage and Current Rating: European Standard Power Cords using the Europlug connector are designed to operate within a voltage range of 230 to 250 volts AC. The current rating of these cords can vary depending on their intended application, with common ratings ranging from 2.5 to 16 amperes. These specifications ensure that Europlug-based cords are suitable for a wide range of electrical devices, from small electronics to more power-hungry appliances.
6.Color Coding: The insulation and jacketing of European Standard Power Cords typically adhere to a standardized color code for the internal conductors. In accordance with European regulations, the neutral conductor is usually identified by a blue color, the live (hot) conductor by brown, and the ground (earth) conductor by a combination of green and yellow stripes. This color scheme aids in safe and consistent wiring practices.
7.Cord Type and Materials: Europlug-based power cords come in various configurations to suit different environments and applications. The choice of materials for the insulation and jacketing of these cords is crucial for durability and safety. Common materials include PVC (Polyvinyl Chloride) and rubber for the cord's outer sheath, while copper or aluminum conductors are used internally.
The Europlug is a widely recognized European Standard Power Cord connector known for its simplicity, standardized dimensions, and versatility. Its design, including pin diameter, pin spacing, and color coding, ensures compatibility and safe operation across most European countries. However, it's essential to be aware of regional variations in plug types to ensure proper connectivity and compliance with local regulations.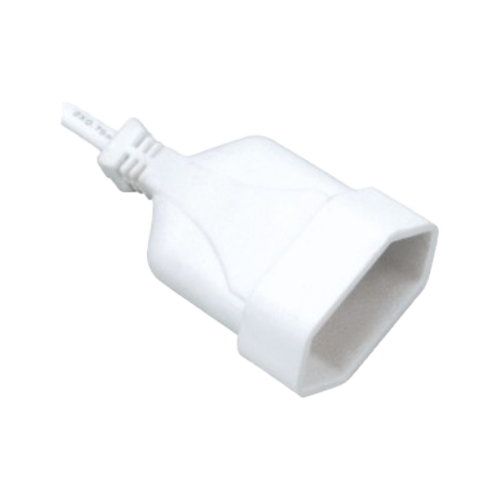 The FY001-Z Two-core European standard plug power cord is a type of power cord commonly used in Europe. It features a two-core design, which means it has two conductors that carry electrical current.The power cord is designed to be used with European standard plugs, which have two round pins.The cord is made from high-quality materials, ensuring its durability and safety. It is capable of carrying the electrical current required to power various devices and appliances.