Choosing the right length for an IEC standard power cord is essential to ensure that your electrical equipment is safely and conveniently connected to a power source. Here are some key considerations for selecting the appropriate length:
1.Distance to Power Source:
Measure the exact distance between your electrical equipment and the nearest power outlet or source. Precise measurements are crucial to ensure the cord reaches without being excessively long.
2.Avoid Excess Length:
It's important to avoid selecting a power cord that is significantly longer than necessary. Excess length can create clutter, increase the risk of tripping, and lead to cable damage or entanglement.
3.Safety and Compliance:
Verify that the chosen cord length complies with relevant safety regulations and standards for your location and application. Different regions may have specific requirements for cord lengths, and compliance is crucial to avoid safety violations.
4.Accessibility:
Evaluate the accessibility of the power source. If the power outlet is located in an area that is difficult to reach, consider a longer cord to facilitate easy connection without straining or bending the cord.
5.Environmental Factors:
Take into account the environmental conditions where the power cord will be used. If the cord needs to pass through tight spaces, around obstacles, or through areas with a higher risk of wear and tear, choose a length that accommodates these factors.
6.Cord Management:
Longer cords can be challenging to manage, increasing the risk of tripping hazards and cable entanglement. Assess whether you have the means to properly secure and manage the excess length to prevent accidents and maintain a neat workspace.
7.Mobility and Flexibility:
If your equipment requires mobility or frequent relocation, a longer cord may be necessary to provide flexibility in positioning. This avoids the need for constant unplugging and re-plugging, which can lead to wear and tear.
8.Cost:
Longer power cords tend to be more expensive due to the additional materials used. Weigh the cost against your specific requirements and budget constraints to find an appropriate balance.
9.Customization:
Some manufacturers offer customization options for cord lengths. If your application demands a non-standard length, inquire about customization to ensure the cord fits your exact needs.
10.Future Expansion:
Consider the possibility of future equipment additions that may share the same power source. Opting for a slightly longer cord can provide flexibility for future expansion without needing to replace existing cords.
11.Aesthetic Considerations:
In settings where aesthetics are a priority, choose a cord length that looks neat and fits the overall design. Concealing or organizing longer cords may be necessary for a clean and professional appearance.
12.Reliability:
Be aware that longer cords can have higher electrical resistance, potentially leading to voltage drop over the cord's length. Ensure that the selected length does not compromise the reliability of your equipment's power supply, especially for sensitive or critical applications.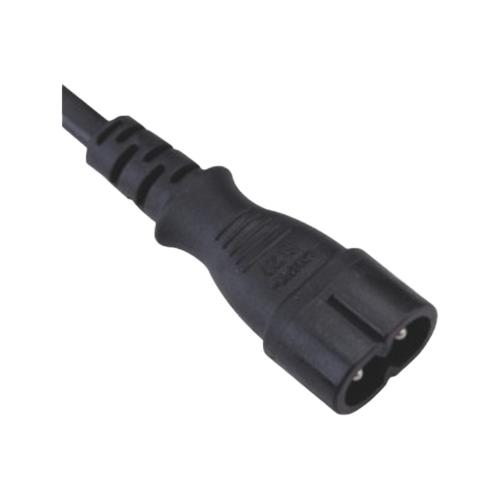 The cable of the IEC power cord is made of high-quality materials such as copper or aluminum. These materials ensure efficient power transmission and minimize heat generation. The cable is insulated to protect against electrical shocks and reduce the risk of fire.