When using power strips or surge protectors with US Standard Power Cords, it's crucial to consider several primary safety considerations to ensure the safe operation of electrical devices and minimize the risk of electrical hazards. Here are the key safety considerations:
1.Overloading:
Overloading a power strip or surge protector occurs when the combined electrical load of connected devices exceeds its rated capacity, measured in amps or watts.
Professional users should carefully calculate the total load of devices connected to the strip or protector to ensure it does not surpass its capacity, as overloading can lead to excessive heat generation, circuit tripping, or even fire hazards.
In critical environments, consider using power distribution units (PDUs) with advanced monitoring and load management features to prevent overloading.
2.Circuit Protection:
Surge protectors should incorporate internal circuit protection mechanisms like circuit breakers or fuses.
These mechanisms help safeguard against overcurrent situations and provide a last line of defense in the event of a fault or overload.
Professionals should regularly test and reset circuit protection features to maintain their effectiveness.
3.Proper Use:
It is essential to use power strips and surge protectors only for their intended purpose: distributing electrical power.
Professional users should discourage daisy-chaining multiple power strips or surge protectors together, as this practice can create a complex and potentially hazardous power setup.
4.Quality and Certification:
Select power strips and surge protectors that carry recognized safety certifications, such as UL (Underwriters Laboratories) or ETL (Intertek).
These certifications confirm that the products meet industry safety standards and have undergone rigorous testing.
Professionals should verify certification markings on the device and documentation.
5.Grounding:
Proper grounding is critical for the safe operation of power strips and surge protectors.
The third prong (grounding pin) on US Standard Power Cords should always be connected to a grounded outlet.
Professionals should regularly inspect and maintain grounding connections to ensure their effectiveness.
6.Inspect for Damage:
Routine visual inspections are crucial to identify physical damage, wear, frayed cords, or loose connectors on power strips and surge protectors.
Professional users should establish periodic inspection schedules and replace damaged units promptly to prevent safety risks.
7.Location:
Ensure that power strips and surge protectors are placed in well-ventilated areas to dissipate heat effectively.
Keep them away from flammable materials, and never install them under carpets or rugs, as this can trap heat and increase the risk of fire.
8.Avoid Water Contact:
Professionals should be vigilant about keeping power strips and surge protectors away from moisture sources, as contact with water can result in electrical shock or short circuits.
Avoid using these devices in damp or wet environments and exercise caution when working near water.
9.Unplug When Not in Use:
In professional settings, it's best practice to unplug devices from power strips and surge protectors when they are not in use.
This practice not only conserves energy but also reduces the risk of electrical issues during downtime.
10.Emergency Response:
In case of emergencies or electrical faults, professionals should know the location of the power strip or surge protector's power switch or circuit breaker for quick disconnection of power if needed to prevent further hazards.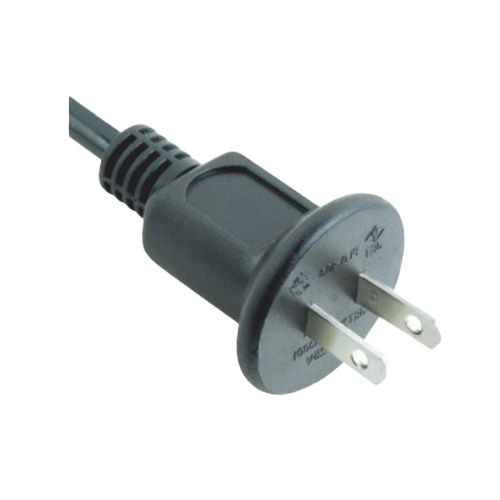 This power cord features a two-core design, with two conductors inside the cord. These conductors are responsible for transmitting electrical current from the power outlet to the connected device, allowing it to operate.