The maximum current rating for European Standard Power Cords is typically 16 amperes (A). This rating is determined based on several factors, including safety considerations and electrical standards. Here's how it is determined:
1.Wire Size (Conductor Gauge): The cross-sectional area of the conductors in a power cord is a critical factor in determining its current-carrying capacity. Thicker conductors have lower electrical resistance, which means they generate less heat when current flows through them. European Standard Power Cords typically use copper conductors due to their excellent electrical conductivity.
2.Temperature Rise: To ensure safety, power cords are designed to limit the temperature rise of the conductors during normal operation. This is crucial to prevent the risk of fire or damage to the cord. European standards specify the maximum allowable temperature rise under different operating conditions.
3.Voltage Drop: Power cords are responsible for delivering electrical power from the source to the connected equipment. Excessive voltage drop can lead to a decrease in the efficiency of the equipment. The current rating of the power cord is chosen to balance the allowable voltage drop over its length with the desired current-carrying capacity. Lower current ratings may result in less voltage drop but might not meet the power requirements of the equipment.
4.Safety Standards: European Standard Power Cords must comply with safety standards such as EN 50525 (previously known as HD 21). These standards define various requirements, including conductor size, insulation thickness, and overall construction, to ensure the safety of the cord under different operating conditions, including overcurrent situations.
5.National Regulations: While there is a European standard for power cords, individual European countries may have additional regulations or preferences regarding power cord ratings. Manufacturers need to ensure that their products meet both the European standard and any specific requirements imposed by the national regulatory authorities.
6.Application: The intended application of the power cord plays a significant role in determining its current rating. Power cords used for standard household appliances, like lamps or computer monitors, typically have lower current ratings since these devices require less power. In contrast, power cords for heavy-duty industrial equipment or high-power appliances like ovens or air conditioners will have higher current ratings to meet their power demands.
The maximum current rating for European Standard Power Cords is determined by considering a combination of factors, including wire size, temperature rise, voltage drop, adherence to safety standards, compliance with national regulations, and the specific application for which the cord is designed. This comprehensive approach ensures that power cords are safe, reliable, and suitable for their intended purposes within the European market.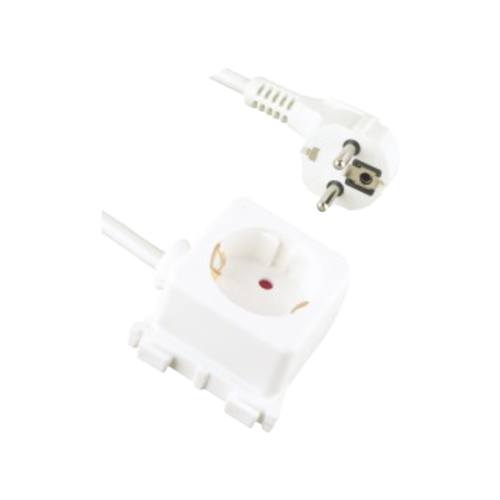 The European standard power cord typically consists of a three-pin plug and a corresponding three-wire cable. The plug features two round pins arranged in a line, with a grounding pin placed either on top or directly below them. The pins are usually made of brass or copper, ensuring good electrical conductivity.